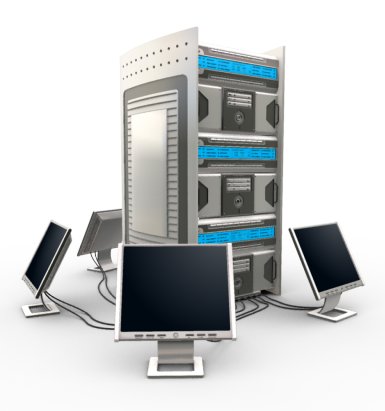 Web Hosting Companies... How To Get What You Need


After choosing a domain name, the next step would be to have it work on a Web server; which are a Web hosting companies' system of computers that deliver (or 'serve') content to the internet, such the text & images which are contained in your site's web pages.

With the myriad of Web hosting companies & choices, it should be easy to find affordable, reliable 'Web hosting' for those just learning about & researching Web hosting or existing Website owners, comparing different Web hosting options; looking for the best deal. But having so many choices & features can actually be the biggest obstacle when attempting to find the right type of hosting that fits the requirements of a company or an individual. Some Web hosting companies will try to sell you everything under sun, and use tactics to try to convince potential customers that they need all types of unnecessary features.
Reliable Web hosting companies will include these important and necessary services with your monthly fee, without having to pay extra for them.
The features that are important to consider when choosing a Web hosting service are:
Customer Support - Technical & account-related issues, addressed with features such as online 'live-chat support'; or easy to access phone-support services;
Storage - the amount of GB (or Gigabyte) capacity available for different elements of your website including, images, databases and other content.
Monthly Data Transfer - Refers to the amount of traffic your Website receives. Aside from the number of users that access your Website, data transfer is also dependent on how large your site files are. If you have large images and files for download, your data transfer will be more, as each user will be receiving more information (data) from your Website. For simple Websites, every 10,000 visitors will use up about 1 GB of transfer per month.
Email - Often some Web hosting companies will try to convince you that you need to purchase their email plans. They offer plans with extra features such as calendars & choices of amounts of separate user addresses per plan, as well as enhanced privacy & security (which is available & included with your Web hosting package by Web hosting companies that don't charge anything for their email services).
User Control Panel / Administration - Whether the hosting company offers a user-friendly way to manage all aspects of their Web hosting themselves.
Server Options - The types of different servers available usually include Linux / Windows and 'dedicated-servers' (Which means they do not share their server with anyone else. This enables custom Web server configurations and provides better performance for high traffic Websites.) For most new Websites, a shared personal package starting at $4 per month is more than adequate.
The process of acquiring hosting through a Web hosting company is easy:

1) Choose Your Domain Name - Certain Web hosting companies offer a FREE domain for life, you only pay for yearly hosting.

2) Choose Your Hosting Plan - After registering by choosing a username & password, you will need to chose the type of hosting plan that fits your needs. For most Website the Personal Package is more than adequate. It includes 6 additional unique domain addresses, unlimited sub-domains, storage and data transfer.

3) Choose Server Options - You will need to choose the type of server you want to use, such as "Linux Web hosting", which includes many free open source applications that can be instantly installed, or Windows Web Hosting, which enables you to benefit from the many enhanced features of the .Net framework.
For some companies or individuals, having a dedicated server is important; especially if they receive large amounts of traffic or require unique server configurations.

4) Finalize Your Order - Choose your payment method & your done!

Well almost ...

Once you've acquired your domain name & hosting, you'll need to have a way to design your Website.
One way to do this without having much experience with HTML or Web application development is by using free Content Management Systems(CMS) or 'blog' sites like WordPress or BlogEngine.net. They offer a wide selection of FREE or inexpensive premium Website themes & templates; that can be customized using an administrative panel, with widgets for designing menus, pages & content 'posts'; as well as for changing design elements such as colors, fonts, & logos. Many themes also support shopping carts, product & photo galleries as well as portfolios. You can also easily upload images into 'posts' to give them visual appeal. With a Content Management System, many of these elements can be easily changed without the user having had prior experience with designing a Website.

Ready? Contact us to learn more about the ideal Web hosting company for your website.
Sharing is caring:
DIGITAL-MARKETING
digital marketing web hosting companies
Dialogue & Discussion