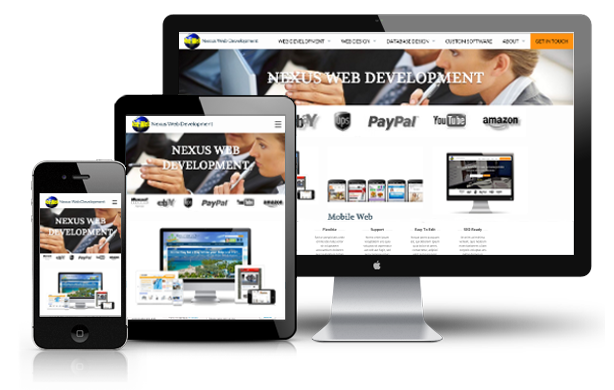 Major advantages of the mobile web design and development services from Nexus include:
Years of responsive website and application design experience.
Passion and a unique approach, which ensures the success of your application.
Compatibility with the most popular platforms and devices.
A single development base for all platforms which reduces time and cost for product creation.
We adhere to best practices and standards in application development and design.
Usage of a wide variety of devices to access the Internet is growing constantly, in tandem with the need for powerful, functional, responsive website design. The widespread use of Smart phones and other devices has increased at an amazing rate, so your business's web presence needs to expand appropriately to give users easy access to your website.

We have the capability to make your website accessible for virtually all platforms.

Nexus Web Development's responsive sites are changing the way development challenges are met, by having a unique understanding of what users want.
By meeting the demands of accessibility to the latest technologies, we develop applications optimized for both user experience (UX) and functionality.
By conquering the differences in screen sizes of PC as well as phones & other devices, relative to viewer readability device support for various features, we continually address and create functionality capable of erasing the incompatibility between formats and layouts of information that's available for devices on the Internet today.

We have the ability to provide you with a compatible website and application to display your website as intended, and as required for smart phones, tablets and browsers. We also provide various levels of testing for different devices, emulators and configurations.

The Nexus development team is comprised of certified software Engineers, UX professionals, and Web designers well-versed & experienced, possessing excellent skills in native mobile application development. HTML5, Jquery, CSS3, responsive website approaches.
This experience enables a significant reduction of both the costs and time required to launch your application.

Our responsive solutions include:
Ecommerce systems
Adaptation of websites for all devices
HTML5 application development for the entertainment industry
Social networking and community site implementation
Business applications