Nexus Web Design Company is a top provider of custom real estate web design
We implement proven custom real estate web design and SEO optimization methods to keep your real estate website at top of the major search engines. Just as important as website ranking, we deliver a professional looking, easy to use and administer real estate websites.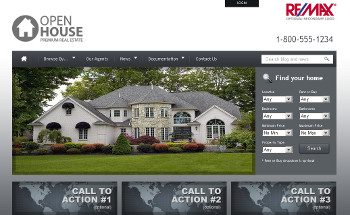 Our real estate website design features include:
IDX / MLS Real Estate Data integration
Real Estate Market Stats (via Zillow)
Real Estate Market Activity (via Zillow)
Real Estate listing area Schools (via Education.com)
Real Estate listing area Maps (via Google Maps)
Walk Score (via Walk Score)
Yelp (via Yelp)
Local Classes (via TeachStreet)
Local Content from NileGuide (via Nile Guide)
Local Colleges (via MatchCollege)
Real Estate calculators
Current Real Estate Interest Rates
In all of our custom real estate web designs your real estate listings can be fed via an XML file / RSS feed to all of the major real estate websites including Google Base, Zillow, Trulia, Yahoo, Vast, Oodle, and more! Many more people will see your real estate listings! Much more traffic will be arriving at your real estate web site! It's automatic! It's free! Your clients will be happy to know you are providing their listing with the maximum exposure.
Top real estate website search engine rankings
To successfully propel your real estate website to the first page on the search engines, you need a website with a lot of relevant real estate related content and applications. The benefit of this method is twofold in that it provides your real estate website visitors with more information and useful real estate tools.
Once your visitors arrive at your real estate website, you should have a web design that doesn't look like everyone else's in your area. This is achieved with our customized real estate website design.

Real Estate Website (first page Google):
Maine Real Estate
Boston Real Estate
Florida Real Estate
Phoenix Real Estate
Houston Real Estate
..many more..
IDX / MLS Real Estate web design
Real Estate Content (integrated IDX / MLS Real Estate Search -with real time MLS data results on your website)
We can host your IDX database and integrate it into your real estate website for NO EXTRA COST!
Why buy real estate leads when you can generate your own?
Turning your website visitors into leads requires these things:
First you need people interested in real estate to visit your real estate website before you can contact them about buying or selling their home!
Just as important, you need a way for them to indicate their interest in a particular type of real estate and to be able to contact them.
Once people find your real estate website, you need a way for them to provide you with enough information to qualify them as a lead.
It's time to purchase a real estate website that performs!
When you are ready, please contact us about your custom real estate web design.