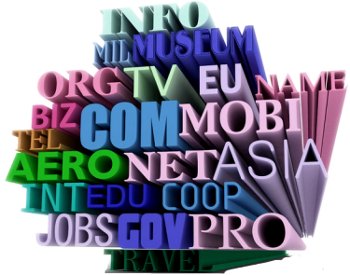 How to Choose Your Domain Name
Many people have innovative ideas & original new products to sell, but never go forward with getting them out there for others to see. If you are one of those people, could it be because your afraid that if you make the decision to 'go for it' & get your own website; that you won't know the 1st thing about how to promote it..or that you'll never sell a thing?

This article aims to explain, the process of choosing a domain name; as well as to educate those who want a website; know that they have an idea that's equal to, or better than the products or services currently available on 'the Web'; but don't really have a clue what's involved or how to get started.
Choose Your Domain Name (naming your website with .com, .net, .org, & more)
Perhaps you have already picked out a domain name for your website...or have a basic idea of what you think you want to call it. That's great, but there are some things you should know 1st.

1) The domain name you want may already be taken. Website domain names have been a part of the Internet since the 1990's when the world-wide web first began. That means that anyone involved in it back then, had 'carte blanche' on choosing whatever domain names they wanted. The 1, 2, & 3-letter names, (i.e. the words or letters that go after the 'www'. & the '@' in an email address) were snapped up 1st. The idea was, that the shorter the name was...the easier it would be to remember and type; and people surfing the web would end up at a site like that more often. This leaves over 20+ years for those names to have been chosen. However, there are still many alternative domain name combinations with other relevant words available.
.com, .net, .org ... what do these '.things' really stand for?

Domain names with the .com extension are the most-popular, most-used, & recognizable of domain names. They are used mostly for commercial. .com is the most popular & sought-after; simply because most people automatically associate it as the default; which means they will be more likely to type yourdomain .com into a browser's location bar looking for that particular type of item or service.
If you have a very original of company or product name; you may still be able to get it as .com. If not, the .net domain name extension, although not as desirable as .com, is still a viable choice, if you really want to have a particular or favorite name that really lets potential visitors know what you are about. The .org domain name extension as you may know, is the top level domain name usually used by non-profit organizations or government related websites.

One thing to keep in mind when choosing your domain name is the use of a relevant keyword in your domain name. Before you hit the 'send' button @ GoDaddy or any other domain registrar; to purchase your website domain, ask yourself what keywords accurately represent your business or what your website is going to be about. The is one important component website SEO or "Search Engine Optimization". Basically SEO is optimizing your website for what search engines like to index. Google, Yahoo, & Bing and just about all search engines, rank sites higher that follow certain rules (their own) and adhere to a particular algorithm, and will 'place' a site closer to the beginning of the search results for a particular search query based on their predefined criteria for determining relevance. Being at the top of the search results for a particular search term, means you have the most visibility to people who are searching for that item or service; and this is crucial since studies have shown that most people do not search beyond the 1st or 2nd page.

Domain names are around $12 per year.
When you are ready, and have a name you would like to use, start by searching for it after clicking the box below, to see if it available. If not you will be presented with a list of possible alternatives.
Sharing is caring:
DIGITAL-MARKETING
digital marketing domain names
Dialogue & Discussion