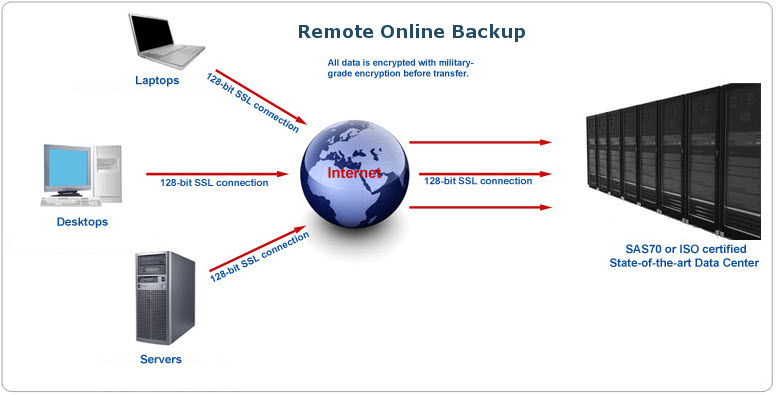 Protect Your Business in Minutes : Top 7 Adavantages of Remote Online Backup
As a business professional, you know the importance of keeping your company data, financial records, and customer information safe and secure. You don't have time for backup solutions that take months to set up, require thousands of dollars in hardware costs, and force you to hire someone to oversee it all.
With remote online backups of your important information, you can be confident that your data is safe, secure and easily retrievable even in the event of a system crash, theft, natural disaster or user error.
Simple. Remote online backup systems are built around a client software application that collects your data then compresses it, encrypts it and transfers it to a server automatically. Typically, this process is carried out on a daily basis.
Secure. Your data is safe with a remote backup service which utilizes military grade encryption, world-class data centers, and the strictest security policies.
Affordable. Remote backups keep costs low with no hardware to purchase and minimal overhead required.
Remote Online backups, saves your business time and money with simple, secure, and affordable backup solutions for computers and servers. You can be up and running in minutes and have the flexibility to deploy and manage multi-user environments from the convenience of a single online administrative console.
When your business' data or applications become inaccessible due to system failure or other issues, it can quickly translate into lost revenue for your company.
A remote online backup, which is a web-based service allowing clients to back up and store their files to a secure, off-site location; is simply the most-reliable way to ensure that your company's vital data is safe at all times. In the event of a failure, caused by user error, theft, fire, defective elements, or a system crash, having a remote online backup of all of your important information, ensures that it is always safe, secure and easily accessible.
Remote online backup services have become very affordable and there are many service providers out there to choose from. Many online backup companies offer similar levels of functionality, but due to the number of options available, deciding which provider offers the most relevant ones for your company's needs can be challenging. By outlining these different options, we hope to help you make the correct choice by giving you the information you need to determine the most appropriate solution for your company's remote backup needs.
Advantages of remote online backup:
Your files remain available and are accessible remotely from any location that has Internet connection.
By utilizing remote online backups, your files and data will be physically safe.
Your data is protected against hardware failures, theft and natural disasters. Traditional backups stored on a hard drive, CD or DVD are still subject to such vulnerabilities. Any of your files that are being stored locally are usually inaccessible and vulnerable to physical hardware damage.
A Remote online backup virtually eliminates the possibility of your data being destroyed due to a disaster.
Remote online backup services include security measures for stored files and secure file sharing, such as traffic encryption, and password protection.
Remote online backup companies offer real-time backup protection at no extra cost, a service that most businesses will want to take advantage of.
Remote online backup solutions can be more cost-effective than an offline alternative backup systems for many businesses.
Remote online backup services can help you comply with the HIPAA security and privacy rules.
Since online backup service pricing and features can vary, assessing your company's needs beforehand is an important step in the process of selecting a vendor. There are remote online backup services which are designed for small business, that vary significantly from those intended to be used for large corporations. Lower priced services that offer basic features such access to the web, scheduled backups, and the ability to share files or send files by CD/DVD may be adequate for the needs of a smaller company. A larger business will require more complex features such as historical backup, live database backup, stronger encryption and the ability to back up operating system files.
Choosing a Remote Online Backup Provider:
Having a reliable and trustworthy provider, will enable you to feel comfortable about trusting your company's data in someone else's hands. There are a multitude of companies that offer online backup service, which can make choosing the best provider a real challenge.
Remote Online Backup Features Include:
Open/locked file support
448-bit Blowfish encryption
128-bit SSL encryption
Automatic or scheduled backups
New and changed file detection
Block level incremental backups
Bandwidth throttling
File versioning
Public or private key encryption
Access to backed up files on iOS and Android devices
Sync files between computers and mobile devices
As well as:
Easy account management: Manage multiple desktops and servers from anywhere with the online Admin Console and create custom reports regarding the backup health of your account.
Automatic or scheduled backups: You can back up automatically or set up a scheduled time that you choose.
Custom configurations: Set policies on bandwidth usage and backup speeds, create custom backup sets or define what file types should be backed up.
Reliable data restores: Browse and search your backed up files, then restore file versions up to 30 days in the past.
Files may be restored on the web, via the software client, or by ordering a DVD restore.
Get Started for Free...
Get Your Free Remote Online Backup
Sharing is caring:
DIGITAL-MARKETING
digital marketing
Dialogue & Discussion