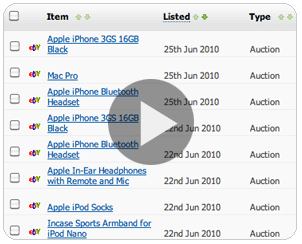 Ecommerce : Sell on Ebay

With our ecommerce software, right from your ecommerce website's control panel you can list your products for sale, (BIN) or auction on eBay. You can see live listings and when an auction is won or a product is purchased, an order is created in your store automatically. No extra work needed.
You can set listings to go live right away or schedule them to go live at a future date and time. There's also no limit on the number of products you can list on eBay and relisting takes just a few clicks.
Manage everything from your ecommerce store
Push some/all products to eBay in 5 clicks
Create reusable eBay listing templates
Setup per-product auction or BIN listings
Custom shipping and taxes for eBay listings
Custom price variances for eBay listings
View your live listings
Automatic order creation in BigCommerce when auction is won or BIN is purchased
Fulfill eBay orders directly from your eCommerce website
Filter orders to quickly find eBay orders
eBay auctions & BINs tied into store inventory
Automatic inventory reduction for orders
No limit on number of eBay listings
Per-staff permission for adding/editing listings
Sharing is caring:
ECOMMERCE
ecommerce seo ebay