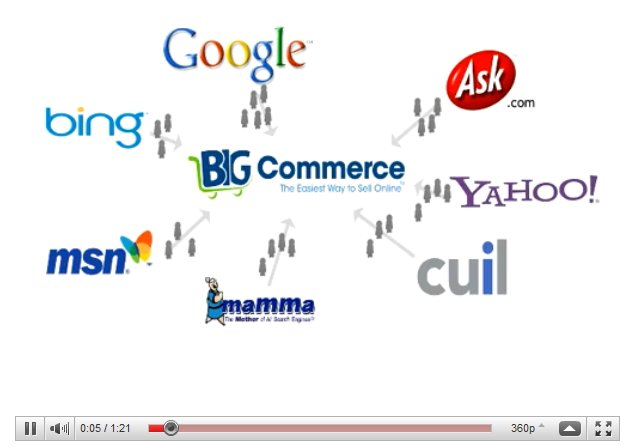 Ecommerce Search Engine Optimization (SEO)
Imagine ecommerce web design software that includes everything you need to rank at the top of the search engines, including custom page title and meta details for products, web pages, categories, brands and news items, as well as search engine friendly links, W3C compliant / tableless templates, proper use of header tags, HTML/XML sitemaps and custom image alt tags.
Our ecommerce software is optimized by SEO experts
Our ecommerce software has been independently audited by various SEO experts, whose feedback was used to further improve the ecommerce platform and therefore your chances of ranking highly in the search engines.
We're SEO fanatics and understand what it takes to rank in the number one spot for very competitive keywords. With our ecommerce software you will have SEO friendly links, per product and per web page title and META data, proper use of H1 tags, tableless and W3C valid templates, HTML/XML sitemaps as well as full control over image alt text.


Ecommerce Search Engine Optimization Features
Recognized as the #1 SEO-optimized solution
Redirect non WWW to WWW
Redirect WWW to non WWW
Optimized by company founders (SEO experts)
HTML easily parsed by search spiders
Edit robots.txt file in control panel
Free access to SEO training blog + videos
Correct use of robots.txt file
PageRank not passed to irrelevant pages
Setup your own 301 redirect links
Per-page optimization (title, META, etc)
Set default page title and META details
Set page title and META details per product
Set page title and META details per page
Set page title and META details per news post
Set page title and META details per category
Automatically generated HTML sitemap
XML sitemap for Google Webmaster Tools
Proper use of H1...H6 tags
SEO friendly product links
SEO friendly category links
SEO friendly brand links
SEO friendly search links
SEO friendly page links
SEO friendly news links
Toggle SEO friendly links
W3C valid templates
Tableless store designs
Custom product image alt text
New SEO optimizations added regularly
Correct use of NOFOLLOW attribute
Lightweight HTML, separate from CSS
100% HTML and CSS templates, no PHP
Full access to modify HTML & CSS
Sharing is caring: