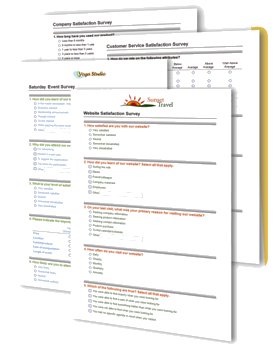 Online Surveys
Online Survey that are simple, fast, and highly affordable. No technical or market research skills are needed! You'll get the insight, new ideas and the knowledge to help meet your customers' needs. Keep them happy and coming back to do business with you—and grow your organization as a result. You'll make more informed decisions—with the broader, more insightful view that Online Survey gives you about what your customers and members really think about your products, services, and communications.
With Online Survey, you can:
Create online surveys or polls fast with just a few clicks.
Choose from more than 60 professionally-written survey templates—from member satisfaction to customer service follow-up, to testing new products, to website feedback, and more.
Save time with popular, pre-written surveys—so you don't have to reinvent the wheel.
Invite participants with an email invitation, or post a survey link on your website.
Manage your survey contacts with email list management tools.
Add online polls to your website to keep your content fresh and exciting—and your visitors involved!
With your online survey results, you can:
View summary results, or drill down to individual survey responses.
See revealing trends and patterns with Survey's filtering option.
Respond quickly to key issues or suggestions based on survey responses.
Then, follow up with relevant email communications.
Discover how the power of Online Surveys can help you better understand your customers, meet their needs, and keep them coming back—again and again.
Learn more about Online Surveys
Sharing is caring:
DIGITAL-MARKETING
digital marketing online surveys
Dialogue & Discussion