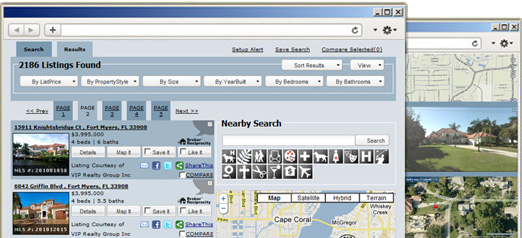 MLS IDX Real Estate Websites

Just today we have partnered with an IDX solution provider that offers a tremendous number of features.
I spent some time checking out the features of their user interface and the functionality of the MLS integrated websites. It's amazing, these guys have thought of everything in terms of making it easy for you to have a custom real estate website with all of the features you can imagine.

Includes a customizable website with MLS integration as well as a CRM (customer relationship management) module, it has the following features and more.
MLS IDX Real Estate Website features:
Display MLS Listings on Your Website
Showcase Your Listings
Showcase Your Office Listings
Client Friendly Interface
Automatic Listing Updates
Easily Integrates With Other Websites and blogs
Complies with All MLS / IDX Regulations
Customize Your Own Listings
Customizable Look & Feel
Create Custom Search Result Pages By Price, Keyword or Any other Criteria
Listing Comparison
Search Multiple MLSs Using one Interface
Search Features
Search By City, Zip, Map, School, Proximity, Neighbourhood, Address and MLS Number
Advanced Listing Search Capabilities
Keyword Search
Mapping Features
Advanced Search By Map Functionality
School & Points of Interest Data
Street View, Hybrid View and Train View of each Property
Refine Results Right on The Map
Property Details Features
Detailed Listing Information
Street, Hybrid and Train View Maps
Nearby School Data Integration Right From Education.com
Points of Interest Data
Community Information & Demographics
Comparables and Recently Sold Listings
Estimate Property Value by Zillow, CyberHomes and Eppraisal.com
Sales Trends
Virtual Tour Integration
Display Open House Data
Lead Capture Features
Receive Leads Via Email
Enable or Disable Forced Registration
Lead Capture Contact Forms
Schedule a Showing Feature
Visitors Can Sign Up for Email Alerts
Share Listings with Family & Friends through Social Networking Sites
Lead Management Features
Manage Leads Using CRM
Manage New Leads and Contacts
Manage Emails, Documents, Tasks, Notes for Each Lead and Contact
Access To Your Clients Login / Registration Area
Client Area Features
Interactive Client Login / Registration Area
Customizable Mortgage Settings
Save Favorite Properties
Leave Notes for Each Property
Communicate with Your Clients
Save Favorite Searches
Upload Files & Documents
SEO Features
SEO Friendly IDX (IDX resides on search.YourDomain.com or any other subdomain you like)
Everything is included, the ability to manage your listings, leads and website all from one easy to use interface.

Pricing is $24.95 per month for the Pro IDX and CRM functionality which can be added to your website or $54.95 per month for a customizable website with your MLS listings and the Customer Relationship Management module.

There is a one time setup fee of $149
Are you Ready? Contact us to learn more ..
Sharing is caring:
WEBSITE-DEVELOPMENT
web development web services real estate websites
Dialogue & Discussion